Spilt is a multifunctional stool, due to its refined and elegant design, it matches any room and use, whether for kitchen at home or contract for cafeteria, hotel, offices, commercial surfaces, etc …
The Split collection is a work of the designer Francisco Meda.
This collection is characterized by the use of metal and polypropylene for its manufacture in 2 pieces. On the one hand, polypropylene for the shell, providing the characteristic flexibility of the split chair, and on the other, the metal used for the legs that gives it stability.
It is a wonderful Italian design stool that, due to its durability and characteristics, is recommended for contract use. Restaurants, cafes, tourist apartments, communities, rural houses, etc … and of course it is an ideal stool for the home.
Seat height 65cm | low kitchen bar
Seat height 75cm | high bar type cafeteria
Indoor use.
Measurements: 480x455x1025mm and 465x435x925m.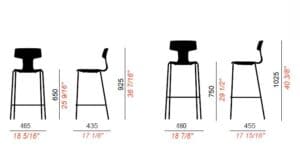 & nbsp;